TechFest's Maths in the Pipeline event is designed to give S4 pupils an insight into how Mathematics applies to real-life situations within the Oil and Gas sector.
The one-day event has been running since 2005 and encourages students to engage with industry professionals from local Oil and Gas companies and use the Maths they have learned in school to solve problems tackled daily by these professionals.
This event is a full day of hands on workshops presented by industry professionals demonstrating the practical application of Mathematics in the Oil and Gas Industry. For further
information about TechFest's Maths in the Pipeline, which returns to Aberdeen thanks to our sponsors BP, Chevron and SPE Aberdeen Section, please see
our teacher guidance notes.
Schools in Aberdeen City and Aberdeenshire are invited to nomination up to four pupils and two reserve pupils to take part in TechFest's Maths in the Pipeline. We hope to be able to allocate places to all pupils, however we will confirm once all nominations have been received. Nominated pupils must be able and enthusiastic mathematicians. Please find the nomination form here.
We have five dates available for your school to choose from:
1. Friday 10th November
2. Wednesday 15th November
3. Friday 17th November
4. Friday 24th November
5. Thursday 30th November
Please return the nomination form to TechFest by Friday 30th June to This email address is being protected from spambots. You need JavaScript enabled to view it.. If you have any queries please do not hesitate to call us on 01224 274194.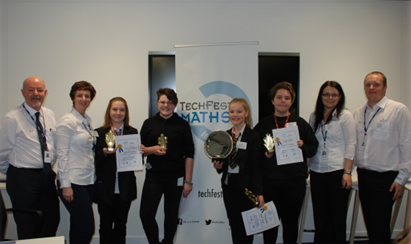 "There has been a great opportunity for group work, having responsibility in a task and to learn about lots of different career paths."
Teacher, Northfield Academy
"The challenges and interaction with the mentors was the most enjoyable and informative part of the event."
Student, Fraserburgh Academy
"The mentors were enthusiastic and would always lend a hand. Had interesting explanations of different jobs."
Student, Robert Gordon College